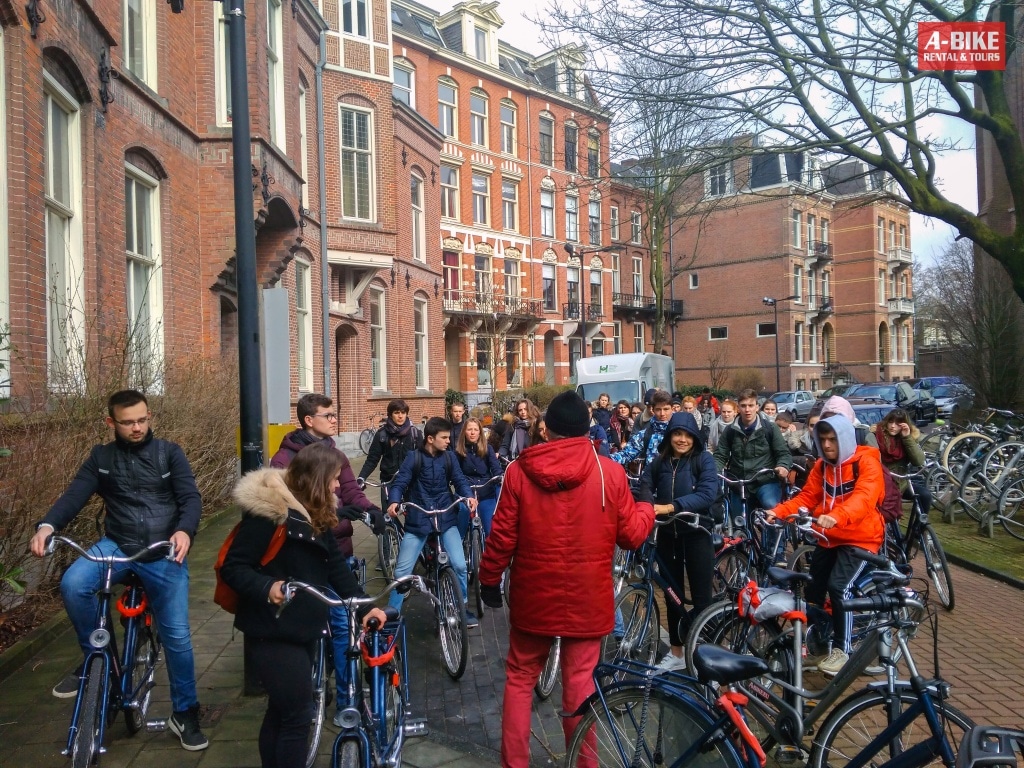 Morning at A-Bike, we are already excited because we know there are 40 French students coming to do an Amsterdam XL Tour.
One hour before the tour started we receive a call telling us that they are stuck in a traffic jam and they'll be late. We were already worried, we really wanted to do this tour. We have been planning for weeks this big tour and we wanted to show them around and to give them the possibility to have a bike experience through Amsterdam.
Second call, they are going to be even later than expected, and they have another tour at Rijksmuseum right after our tour, so they can not stay longer. What should we do? Because there is no way to have enough time to do an XL Amsterdam city tour that last two hours and a half.
Let's be flexible and let's change the plan due to the circumstances. They will do a Vondelpark and surroundings Tour. Our tour guides can explain them about the park and they will still have the bike experienced!
And that's what we did, they arrived at A-Bike Vondelpark shop, we had the bikes ready for them to start as soon as possible.
When they finished the tour they came back to our shop to bring the bikes back, and our tour guides went with them to Museumplein, to make sure they didn't get lost. There we are sure they enjoyed their second tour of the day.
And why do we choose them as Customers of the Week? They were forty, so it was impossible to just choose one of them. And also the teachers, they were very friendly. They both were very nice and they were very interested in the information that our tour guides were giving.
They made our day just with the fact that they booked a customized tour, we love them. It is our opportunity to be more creative and adjust to the desires of the customers, even if this time we had to do a last minute change because of the traffic jam.