Follow the flow: Georgios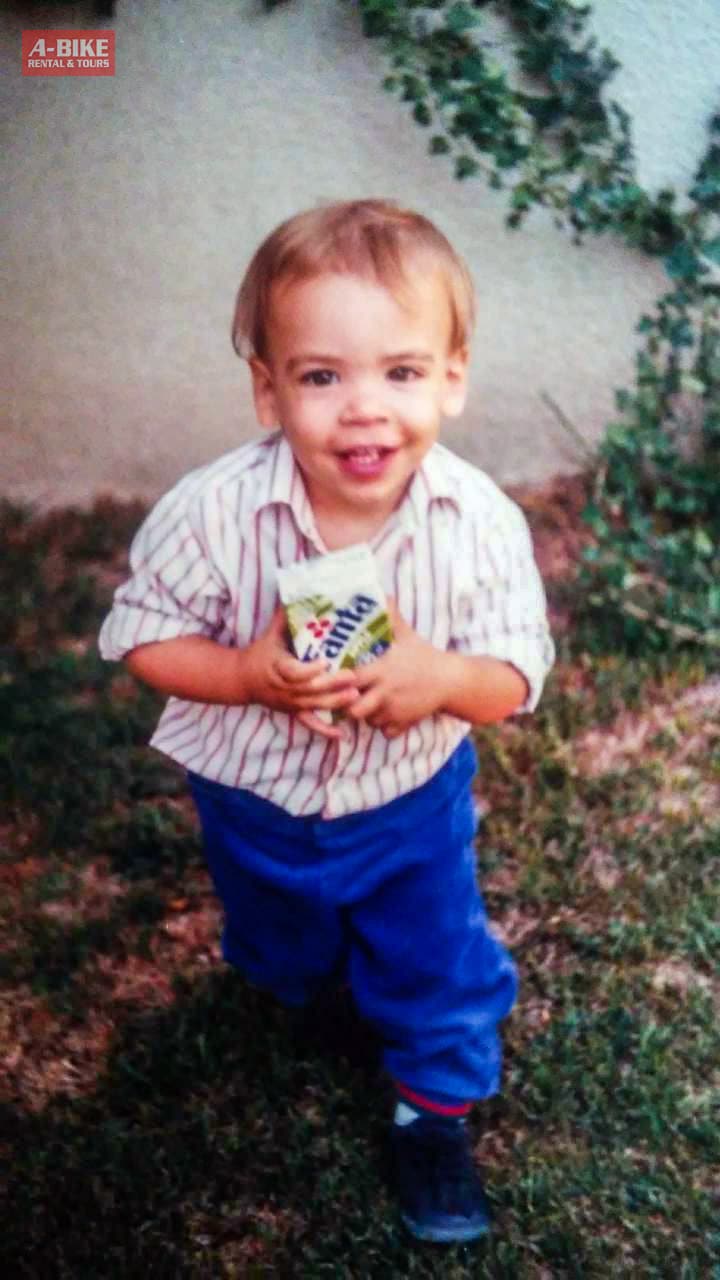 This little boy is Georgios, the project manager of A-Bike, as well as the shop manager of A-Bike Dam Square. He is a positive guy who is always trying to make/keep his team and customers happy. He started to work at A-Bike about a year ago working at Vondelpark shop and his hard work and effort were rewarded.
What is your name? 
Georgios.
What is your nickname?
Georgis, because I am a very sweet person and people naturally call me like this (laughing).
What languages do you speak?
Greek, English and body language.
Where were you born?
I was born in Nicosia, Cyprus.
When do you get angry?
I get angry when people are not motivated to do something.
What do you think about dutch people?
Dutch people are very smart people. Sometimes they pretend not to be that smart to make sure their goal is achieved.
What's the first thing you think about when you wake up?
The first thing I think about when I wake up is coffee. The first thing without thinking is going to the toilet.
Which is your favourite place in the world? 
My favourite place in the world is somewhere that I haven't been yet.
How do you start a conversation?
With a smile, always with a smile.
What is the longest you have gone without sleep?
Three hours (laugh). No, in realistic terms it was around 35 hours and I must say it was the worst time of my life. I did it twice or three times. Once, I was just partying with friends all night long. When the sun came out we all had to go through with our day.
The second time was in Mykonos. We never booked a place to sleep as we only went there for a bachelor's party.
The third time it was in new year's eve. I was playing poker with my friends until the morning hours and then I had to go to family meals to celebrate the new year.
What's your favourite food?
Anything that comes out of my mum's kitchen but if I had to pick just one that would be my dad's souvlaki, haha!
How does a bike work?
With human energy.
How many times do you breathe in a minute?
37?
Is there something that you would like to change from your past?
Not really. Maybe only after I eat junk food.
Which one is your favourite tv show?
Rick & Morty.
Netflix or look for on internet for the movie?
Actually, I didn't know what Netflix was until four or five months ago, so I will say I am an old school guy that looks for movies on the online.
Beach or mountain?
That's a very difficult question for me to answer because I come from a place where there are both and we can go to either of them at any time of the year. I seriously can't answer, I mean is fifty-fifty. I love them both equally. My mother loves the mountain and my father loves the beach, so I kind of learnt to love them both.
What's your favourite word?
Flow.
If I tell you the world will end in 24 hours, what would you do?
I will try to go to Cyprus as soon as possible. I will tell the people I love that I love them. I will play some football and eat as much food as possible.
If I tell you that you just have one hour more in your life but you can repeat one hour you already lived, which one will you choose?
I would like to repeat the hour that I was waiting for the birth of my sister's daughter. It was her first born and what I was feeling was very profound, I wouldn't mind re-living it for a lifetime.
Beer, wine or cocktail? 
Beer.
If I told you that I know your future what would be the first thing you would ask me?
Will I achieve all my goals?
What is the first thing you did when you came to Amsterdam?
For the first time ever? I went to a coffeeshop, but it was when I came as a tourist.
When I moved here, the first thing I did was knock on the door of my own house.
What is the weirdest thing about you?
I find myself pretty weird, so I can't point out the weirdest thing about me.
What is the weirdest thing you have done?
I jumped into a pile of garbage bags.
Airplane, car , space ship, boat, motorcycle, walk, bicycle, hover, subway or teleportation? 
Of course bike, always bike! I want to go fast but only as fast as to the point where I am still able to observe everything around me.
Do you like your job and why?
I love my job because I get to motivate people.
What was your most strange experience with a customer and why? 
It was an Italian group of friends. We didn't have their e-bikes ready for their booking, they were not late but they were still complaining that we didn't have their bikes ready. At the end of the day, we ended up hugging each other and kissing because we helped them out.
Can you recall your favourite customer while at A-Bike and why? 
It was a girl from Hawaii, she was very friendly and she brought with her two people that were living with her in the hostel. When they came back, we were talking for a long time and we exchanged contact details. One of those three people moved to Amsterdam and we still keep in touch.
What makes you wanna sleep?
Boring TV programmes.
Catwoman or superman?
Catwoman.
Do you feel lucky or unlucky and why?
I feel super lucky because I am positive I create my own karma.
What inspires you? 
I get inspired by new things.
What would you say to Jesus Christ if he came in front of you right now?
I am sorry i did not believe in you.
Have you ever date a customer?
No, I am loyal to my girlfriend.

Do you believe in time machines?
Yes, I definitely believe in time machines. If we are able to think about them then we are able to create them.
How do you define stress and what do you do to tackle it?
Stress is a pain in the ass with an additional pain in the neck in combination with a migraine in the right side of the upper part of your head and it can go away with no thinking and meditation.
Which would be the next three countries you would like to travel to?
I would like to travel to India, Japan and Mexico.