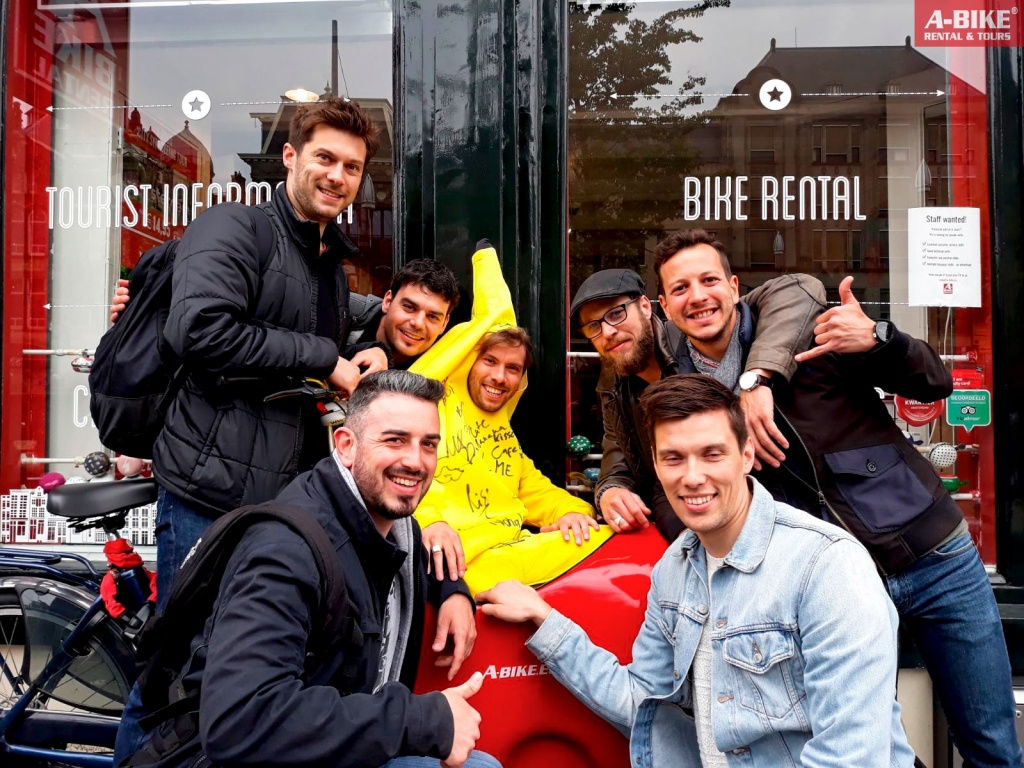 Why do you think these customers are so happy? Why do you think one of them is dressed up as a banana? Yes, they are having a bachelor party!
They decided to take a flight in France, where they are from, and come to Amsterdam. Once here, they thought the best option to explore the city was to rent a bike. So they went to our shop A-Bike Dam Square and that's why we meet them.
We are sure the guy who is going to get married will remember Amsterdam and this trip forever, one of the reasons is because you don't have every day your own bachelor party, and the second one, and also funnier, is because people on the street were signing his costume, such a nice idea!
When we were giving them the bikes we knew we were taking a big risk, can you ever trust a bachelor party? We are not sure! Anyway, our goal was that they could have a good time and this is what we tried to giving them the best tips to go around the city and of course, some nice bars. They also met with a hen party just outside our shop, and of course, they took some pictures together!
But when they returned the bikes they looked so happy that we didn't regret at all to have rented them the bikes. They told us they had a great time, and it is a pleasure for us!
After the ride, they enjoyed coffee and tea in our lounge area. Unfortunately, we couldn't offer them everything that they wanted. They asked for some liquor to add in the coffee, but we didn't have. We will try to have for the next time ?