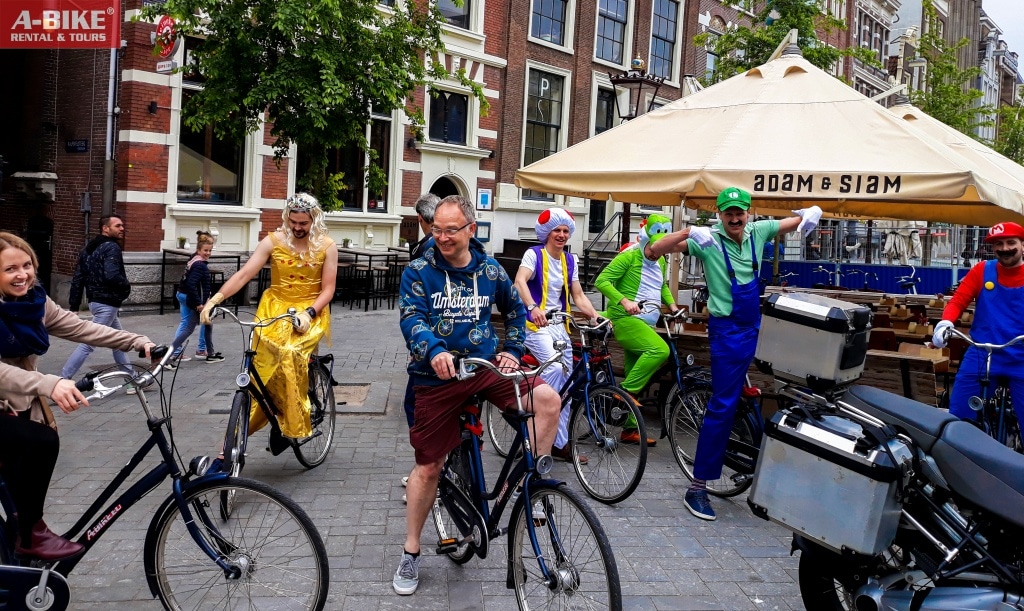 Mario and Luigi are brothers, they travel through the Mushroom Kingdom to rescue Princess Toadstool from the antagonist, Bowser. Who doesn't know this game? Probably everyone does.
We really like Super Mario Bros but what we never expected before was to have this funny team at our shop A-Bike Dam Square renting bikes. Actually, they were not just renting bikes, they were joining an XL Tour. This kind of tour goes through Amsterdam city for two hours and a half. What does it mean? For two hours and a half, every tourist and local in Amsterdam were taking pictures of them. They deserve it!
Of course, they were not the only ones on the tour, can you imagine the faces of the rest of the customers and even the tour guide? They couldn't stop laughing. It was an unexpected situation.
They come from England and they were, of course, in a bachelor party! Can you guess who was the one who was going to get married? Sure, the princess! 😉 We are sure they had an amazing time in Amsterdam, it was a worth it bachelor party!